Product story
Let PLEXIGLAS® liven up your space!
Tired of plain white walls in a dull office? Your office doesn't have to remain that way.
Evonik Industries recently presented a product showcase in interior decoration, at their own workspace in Shanghai. These new installations add spice to the work environment to benefit the employees while making a perfect case study for potential customers.
Colorful and inspirational pieces to rest your eyes upon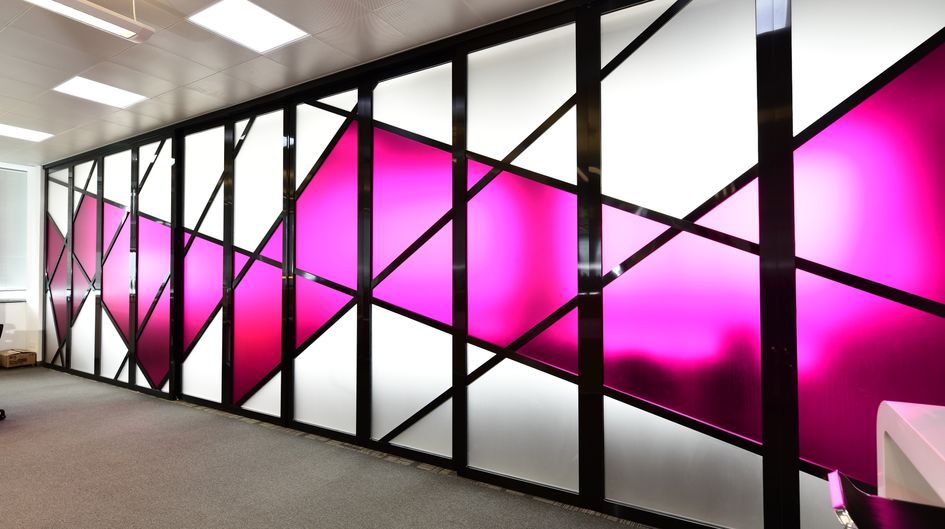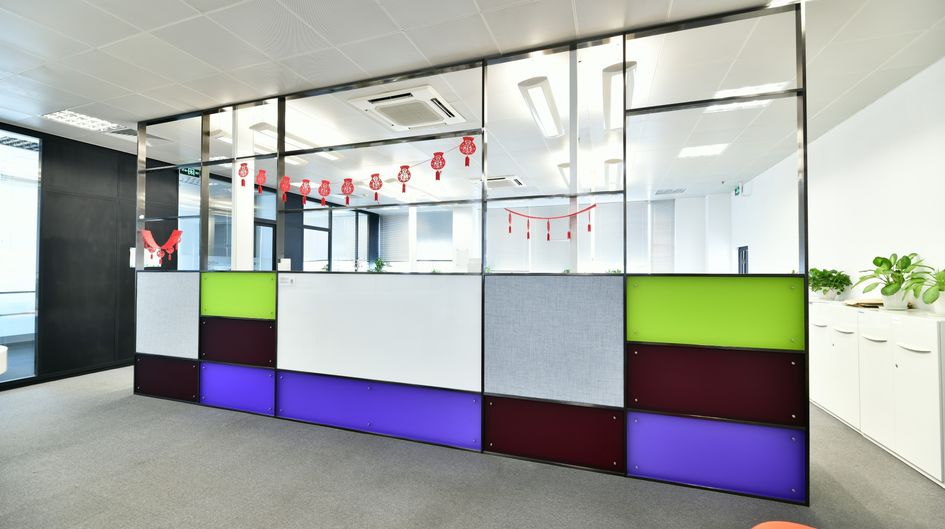 Now Evonik employees in Shanghai have something exciting and fun to rest their eyes upon. Walking into the office, you'll be impressed by a 2-meter high accent wall in the pantry area. Square blocks of PLEXIGLAS® in the colors of green, orange, purple, black and white have been arranged artistically with hollowed space into a large mural standing up there. They are surely going to brighten up your day.
Another highlight in the building is the function hall with a view on the 5th Floor. Or, to be more specific, the spotlight shines on the automatic door made of PLEXIGLAS®. The spectacular 13*4 m door features a 'dragon' in a combined form of Evonik Deep Purple and white, the primary corporate color. With one simple touch, the door in front of you unfolds slowly a picturesque view of the neighborhood in the Xinzhuang Industry Park. You can't help wondering if it were a gallery rather than a meeting hall.
Unlimited freedom in design combined with functionality
"Before we started to renovate our office, we aimed to offer a fun and light-hearted environment with innovative designs, sparking inspiration at work. This is what PLEXIGLAS® happens to be good at." Weimin Wang, Head of Business Line Acrylic Products Asia said. The material's variety of shapes and colors and intelligent functionalities, added to its ease of fabrication, offer unlimited freedom of design.
PLEXIGLAS® may have been known for applications in shop-fitting, such as the lightshow facade of Victoria's Secret's flagship store in Shanghai. Yet, has anyone ever thought of a lightshow for the everyday office? Employees at Evonik are quite amazed by the newly installed phone booths with color-changing doors. Fitted with LEDs along the edges, the light panel made of PLEXIGLAS® Endlighten T can distribute the light evenly so that the whole door looks like a uniformly illuminated painting. Thermal sensed LEDs make it also very interesting that when a colleague enters the booth, the LEDs are lit and start changing colors as the person walks around in the booth.
Eye-catching and energy-saving
There's more to the PLEXIGLAS® Endlighten T than meets the eye. The same material was employed in the directional signs at Shanghai Pudong International Airport Terminal 2. Hundreds of illuminated signs made of PLEXIGLAS® guide passengers on all four levels of the 480,000 m2 building complex safely to their destination 24/7, most importantly, in an energy-efficient way.
The signs must be easy to see, bright and evenly lit. But they also have to be energy-efficient and take up a minimum of space. PLEXIGLAS® succeeded in combining good lighting results and low energy consumption. Thanks to the special light-guiding behavior of PLEXIGLAS® EndLighten T, the sheets can be edge-lit and distribute the light unanimously across the surface. This saves backlight against the entire sheet which would have been installed when using conventional acrylic. In this case, by using PLEXIGLAS®, the energy consumption has been reduced by 50%.
"The brand acrylic product has been used in architectural and interior applications for over 80 years," said Benjamin Ling, Senior Vice President of Evonik Performance Materials Asia Pacific, "We keep working together with our customers to push boundaries in developing more innovative applications with PLEXIGLAS®." It is perfect for creating one-of-a-kind designs that stand out from the competition, and providing a communicative ambience whether for an office, an exhibition booth or a public facility.