Press release
China
August 26, 2021
Evonik upgrades Shanghai site to boost innovation in China
Shanghai R&D center upgraded to "Evonik Shanghai Innovation Park" and positioned as one of the six global R&D core sites
Expansion of R&D activities to support business growth in China
R&D headcounts in Shanghai Innovation Park to be doubled by 2027
Evonik today announced the upgrade of its R&D center located in the Shanghai Xinzhuang Industry Park into Evonik Shanghai Innovation Park. With the upgrade, the company aims to further expand its existing research and development (R&D) activities in China, so as to drive profitable and sustainable business growth.
"Innovations are a key driver of sustainable growth. Being close to customers, markets and developments is crucial for Evonik," said Andreas Fischer, Chief Innovation Officer of Evonik. "Evonik considers China one of the world's fastest growing innovation driver. We are committed to significantly enhance our R&D competencies in this region. The upgrade to Innovation Park marks a cornerstone of this effort and strengthens our position as an innovation leader in specialty chemicals."
Evonik wants to further position Shanghai as one of its six R&D core sites globally. Therefore, the Shanghai Innovation Park will bring together all cross-business competencies and technologies, comprising activities of research, product development, process innovation, pilot plant, application technology, analytical services and venture capital investment and covering both regional and global R&D topics. By consolidating resources and investing in new facilities, Evonik will spur the competency of specific technologies such as lithium-ion battery materials, high-performance polymers and formulation technology of specialty ingredients for cosmetics and cleansing products. In this way, the company is able to better serve strategic growth markets such as e-mobility, green manufacturing, additive manufacturing and consumer goods sector.
With the strengthened R&D setup, Evonik plans to further foster and utilize full potential of local top talents. The company expects to double the R&D headcount of the Shanghai Innovation Park by 2027.
Evonik also plans to expand its innovation networks through various open innovation approaches. For example, the company is working on several joint research projects on advanced materials with leading Chinese universities and is exploring new business potential through venture capital investments into start-ups. 
"The Shanghai Innovation Park and the expansion of R&D activities aligns with China's economic and social development agenda, which brings us tremendous growth potentials. It also underlines our commitment to China with investments in market-driven innovation areas," said Fuliang Xia, president of Evonik Greater China. "We aim to innovate in China, for China and also for the world. We will continue to strengthen our local innovation presence, provide customers with more innovative and advanced materials solutions, so as to drive business forward together."
For years, Evonik has been building up innovation capacities in growth market, aiming to help strengthen the competitiveness of its customers through research and applications technology geared specifically to regional megatrends and local needs. In China, Evonik established the Shanghai R&D Center in its Xinzhuang site in 2004. It was then expanded in 2007, 2013 and 2018 in response to the rapid growth of the market. Alongside the Shanghai R&D Center, Evonik has also set up applications technology laboratories at several sites.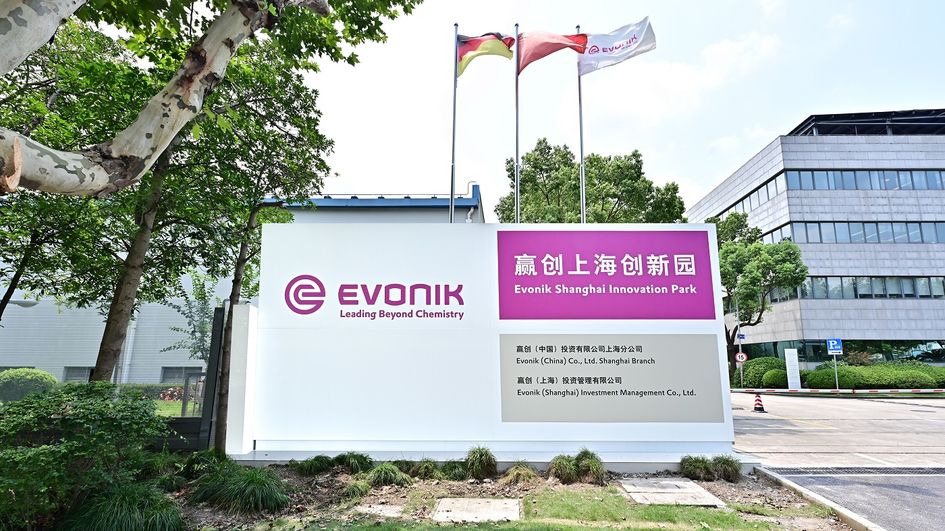 Company information
Evonik is one of the world leaders in specialty chemicals. The company is active in more than 100 countries around the world and generated sales of €12.2 billion and an operating profit (adjusted EBITDA) of €1.91 billion in 2020. Evonik goes far beyond chemistry to create innovative, profitable and sustainable solutions for customers. About 33,000 employees work together for a common purpose: We want to improve life today and tomorrow.
Asia Pacific is a strong driving force of the global economy and an important source of innovation. Consequently Evonik endeavors to further grow its business in the region. Sales reached €2.84 billion in 2020 and the company employs over 5,000 people at more than 50 production sites in Asia Pacific.
Disclaimer
In so far as forecasts or expectations are expressed in this press release or where our statements concern the future, these forecasts, expectations or statements may involve known or unknown risks and uncertainties. Actual results or developments may vary, depending on changes in the operating environment. Neither Evonik Industries AG nor its group companies assume an obligation to update the forecasts, expectations or statements contained in this release.